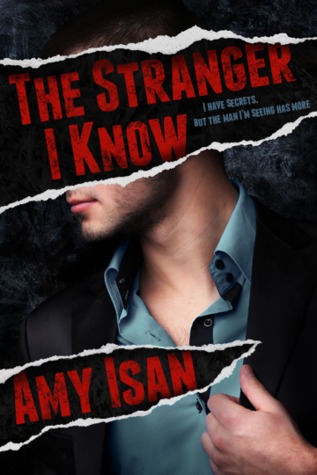 Title:
The Stranger I Know
Author Name:
Amy Isan
Publication Date & Length:
Published January 22nd 2015
1, 174 pages
I'm in love with a man who's ruining my life.
Every week, I slip into a hotel room with him and blindfold myself. He makes me feel alive in a way I've never experienced. He won't let me see his face, but I've grown to love the way he touches me, holds me…
And hurts me.
But there's another man in my life who is trying to hurt me. James; a new executive for a rival company. He wants to get me fired — to destroy me — by any means necessary.
Millions of dollars are at stake, and I can't let that bastard get to me. Except he already has.
Every mistake pushes me back into the arms of my Dom… my Stranger.
He's the only thing keeping my hands from shaking. But what if he's the one making my life into a living hell?
This review is from: The Stranger I Know (Dark Romance) (Kindle Edition)
First off, I was given an ARC of this book for in exchange for an honest review, I also bought the book! This book is hot almost from the first page! It has, domination/submission, crazy hot sex, A very strong heroine, a strong gorgeous Dom,some darkness, romance, pain, and did I mention sex? This book grabbed me from the first page, I didn't want to put it down, and I read it in one evening!
A bit about this book: Marcey is an exec that clawed her way to the top floor of the company she works for, not on her back but by working harder than the men.She dresses like a man and tries to hide her beauty, she tapes conversations and is ruthless with anybody who gets in her way. Marcey has the attitude of get them before they get you.The company that she works for needs a merger with another company to get out of it's free decline. Marcey's boss is an ass who is always putting pressure on her about the merger, and always trying to make a pass at her. He is a
weak mad who tries to act tough and fails miserably . Marcey has a Dom she meets every week at a hotel for a bdsm session. The submission, the pain, and the sex release her tension and the pressure that builds up every week from work. She has never seen her Dom, he gets there first, wears a mask, and then blind folds her for the rest of the session.
James is the CEO of the company that Marcey's company wants to merge with. He is gorgeous, cocky and wants Marcey! She however does not know this! The back and forth of their conversations is filled with each of them trying to get to the other, and lots of sexual suggestions for both of
them. He makes a pass, she counters and tries to act tough, and he blows her off. Give this book a try if you want to find out what happens with
them. I promise the twists and turns will keep you on the edge of your seat!
Review by Sass
Amazon
:http://www.amazon.com/dp/B00SMA91N2/ref=pdp_new_dp_review
I'm an independent romance novelist diving into Dark and MC genres. Having a blast while doing it too.
My latest is Dark Exposure, and I'm currently working on "The Stranger I Know"
Facebook
https://www.facebook.com/amyisanromance
Author's Newsletter:
http://bit.ly/AmyIsanNewsletter
Author's GoodRead Page
https://www.goodreads.com/author/show/7188769.Amy_Isan